About Us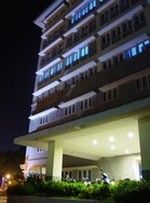 The School of Mathematical Sciences was established in May 1974. It was previously known as the School of Mathematical and Computer Sciences until the separation of the two sections on March 1, 1995.
Since its establishment, the School has undergone rapid development and made significant advances pertaining to academic programs, research and development, teaching and consultancy.
---
VISION
To be a recognized department of mathematics that can attract excellent students and produce quality mathematicians nationally and internationally.
MISSION
To lead and innovate in achieving excellence in Mathematical Sciences at the international level through advancing and disseminating knowledge and truth; instilling qualities that stress academic excellence and professionalism; developing holistic individuals; and providing a strong commitment towards society's aspirations, the country's vision and universal aspirations.
---
For more information, please contact :
Dean
School of Mathematical Sciences, Universiti Sains Malaysia, 11800 USM Penang, Malaysia .
Tel : +604 653 3284 | Fax : +604 657 0910 | E-Mail : dean_mat@usm.my