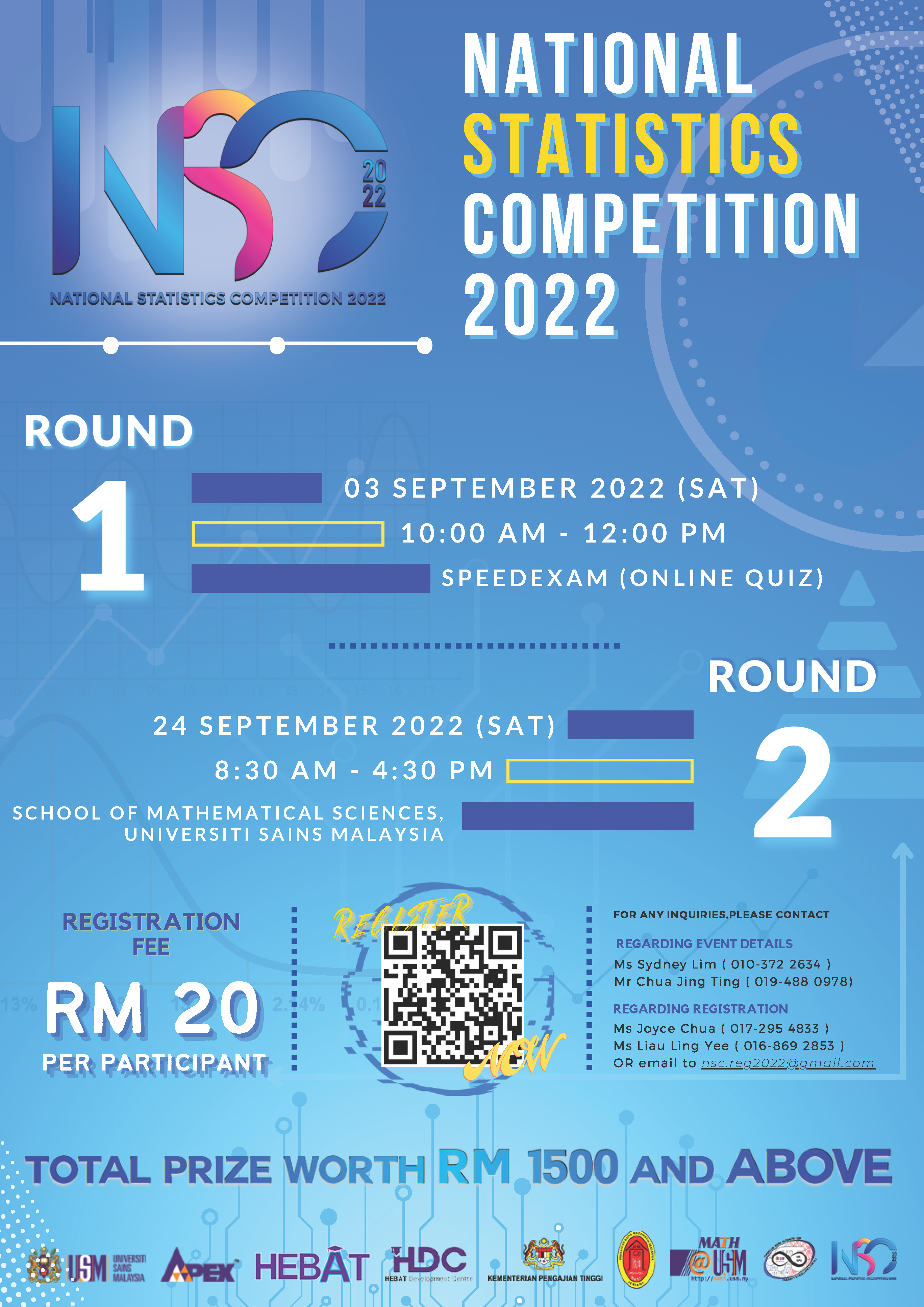 Here comes the golden opportunity for all math lovers!
Don't miss this opportunity to be the shining star in this competition!
Important event details are as below:
Round 1(Qualifying Round): 3 September 2022
Round 2(Final Round): 24 September 2022
Registration fee: RM 20 per participant
Registration closing date: 14 August 2022
Don't hesitate anymore, register now at https://bit.ly/usmnsc2022 !
Follow our official website and pages for more updates!
Official Facebook page: https://www.facebook.com/USMnsc
Official Instagram page: https://www.instagram.com/nationalstatisticscompetition/
Official website: https://rebrand.ly/nsc_usm
#NSC2022
#NationalStatisticsCompetition
#CultivatesInterestTowardsStatistics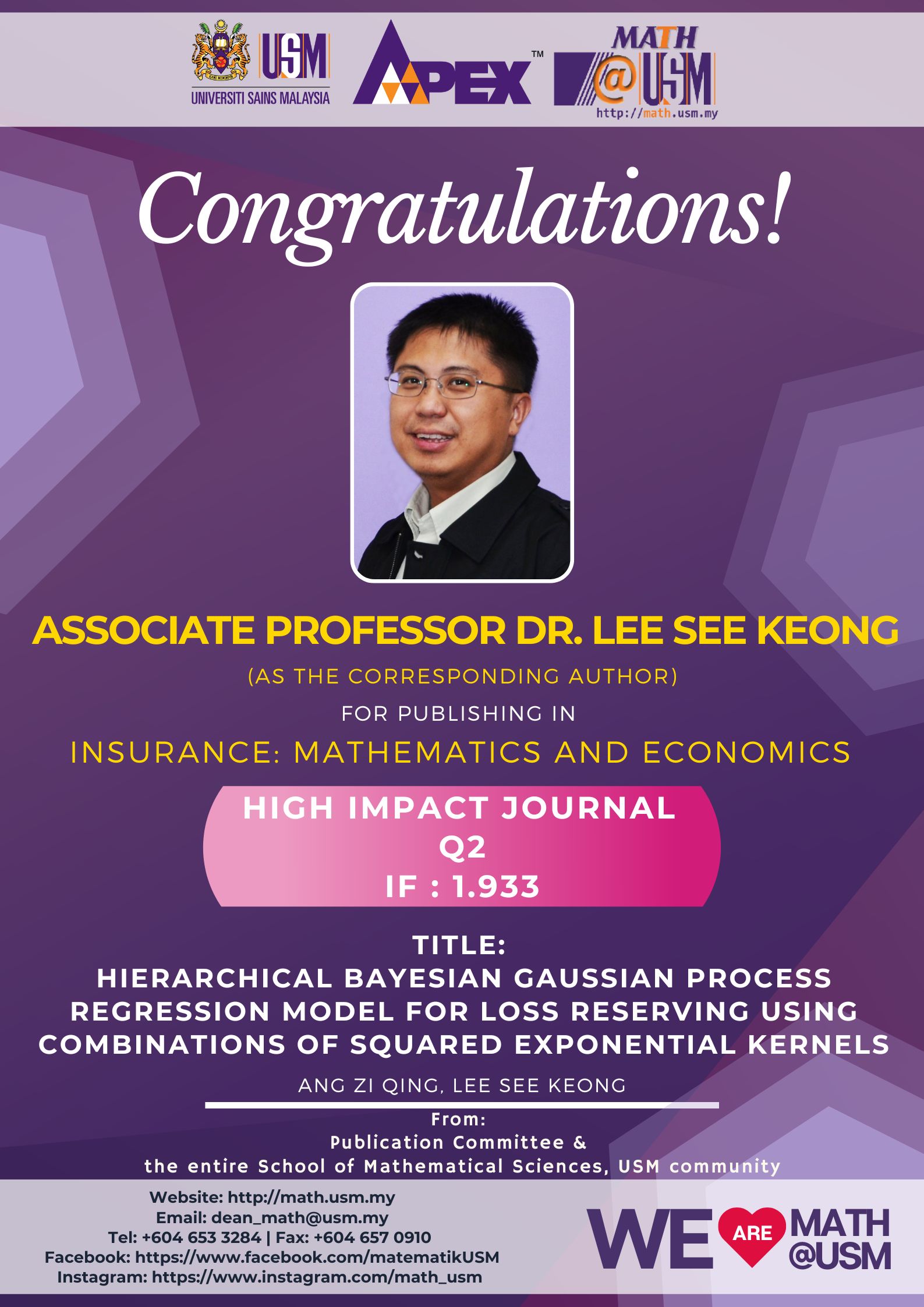 Click here for the full paper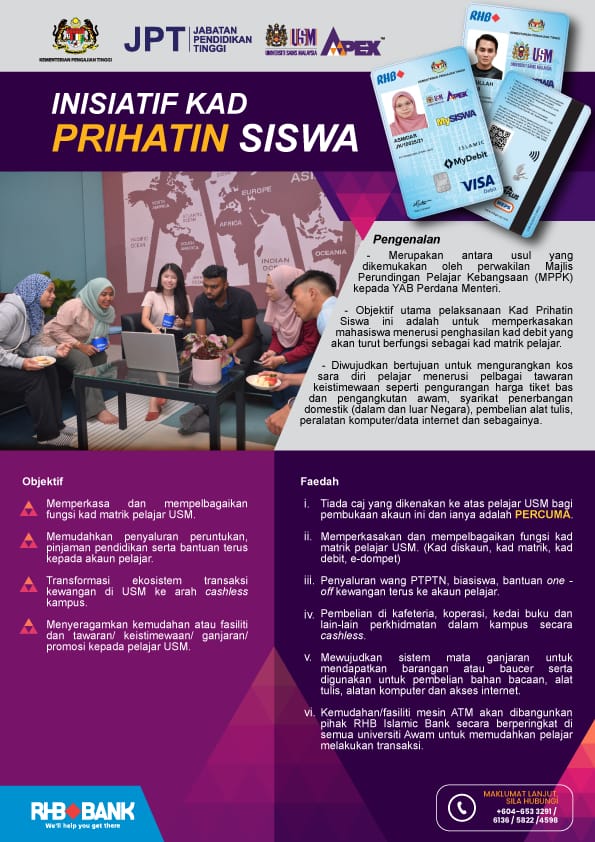 Kad Prihatin Siswa (KPS) adalah kad matrik pelajar menggabungkan kad identiti pelajar dengan kad debit RHB Islamic Bank .
Borang persetujuan pembukaan Akaun RHB boleh dicapai melalui campus online pelajar mulai 21 Jun 2022, jam 11.00 pagi sehingga 6 Julai 2022.
Semua pelajar berstatus aktif (Siswazah & Pasca Siswazah) warga negara dan bukan warganegara, perlu mengemaskini maklumat pelajar melalui pautan tersebut untuk persetujuan pembukaan akaun RHB . Pengaktifan kad akan dilakukan di kampus USM masing-masing, pelajar tidak perlu ke mana-mana cawangan RHB.
Untuk maklumat lanjut, para pelajar boleh menghubungi Bahagian Hal Ehwal Pembangunan Pelajar & Alumni Kampus masing-masing.
BHEPA Induk : bhepa@usm.my / 04-6533107
BHEPA Kejuruteraan : bhepa_eng@usm.my /04-5995535
BHEPA Kesihatan : tpbhepakk@usm.my / 09-7671310